The Key Club is the oldest and largest service program for high school students.
Key Club members build themselves as they build
their schools and communities. Key Club is an organization of individual Key Clubs and is funded by nominal dues paid by every member.
Optimist Club member Donna Johnson surprised the THS students who are winners of the Optimist Club Essay Contest. From left to right: Sophie Prior, 2nd place; Donna Johnson; Taylor Elrod, 3rd place; Sydney Stover, 1st place. The Optimist Club will honor all three students at their February meeting.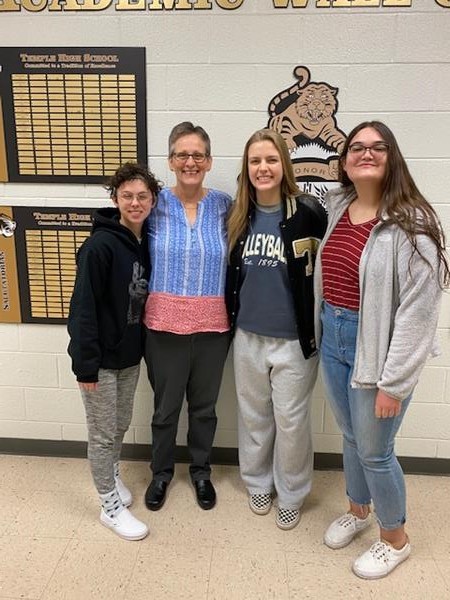 THS Key Club members visit Ms. Shepherd's class at Temple Elementary School for their official "adoption" party. The club will meet with students each month for mentoring and special activities. Key Club members collected books for the room reading library and delivered them along with personal notes and treats.
THS students read with TES students at 1st Kiwanis sponsored Read Across Georgia

THS students volunteer with Salvation Army at Ingle's in Temple